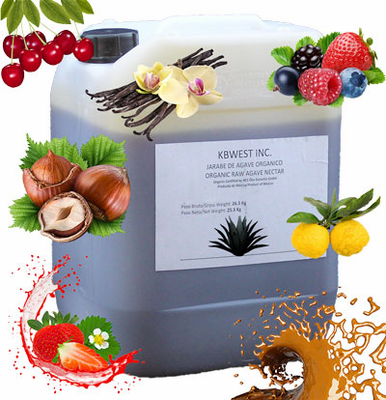 Description
Notes
Our Artisanal Craft Agave Nectars are truly unique with endless possibilities.
21 Missions Infused Agaves add depth and complexity to your favorite food or beverage.
Vanilla Agave
Hazelnut Agave
Chocolate Agave
Maple Agave
Coconut-lemon Agave
Citrus-Yuzu Agave
Blood-orange Agave
Persian-Lime Agave
Strawberry Agave
All of the natural ingredients used in 21 Missions Agave Nectar are selected based on exceptional flavor and the highest quality.
Our Agave Nectar are infused with all natural flavorings made from botanicals, whole fruit essences and essential oils.

Because there are no substitutes for high quality natural ingredients, nothing artificial is used in the Flavored Agave Nectars
Vanilla Agave
Hazelnut Agave
Caramel Agave
Chocolate Agave
Maple Agave
Coconut-lemon Agave
Mixed-berry Agave
Citrus-Yuzu Agave
Blood-orange Agave
Persian Lime Agave
Strawberry Agave
Bulk Request
Food bulk processing and industrial offering available in drums, totes, partial pallets, full pallets.