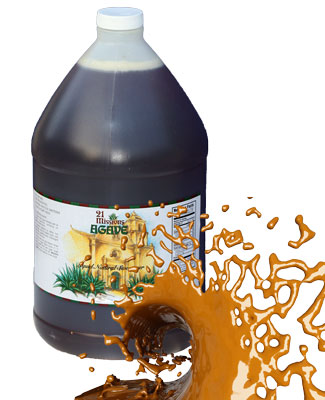 Description
Bulk Caramel Agave Syrup
---

Tasting notes: A full-bodied caramel flavor. Rich toffee aroma with creamy buttery-caramel finish. Perfectly compliments Flan desserts, drizzle over baked apple or pears with cinnamon. Enjoy!

---
Caramel Syrup Production Note
- Formulated for optimal flavor balance when blended in coffee, espresso drinks, iced coffee, "Classic Caramel Flan", Apple or Pear based desserts, hot cereals, ice cream, yogurt, Apple cider cinnamon spice and culinary specialties.
21 Missions Agave Syrups are a proven, easy way to create your own taste sensations.
The Agave Nectar used in our 21 Missions Agave Nectar is Vegan, Kosher and Organic.
Agave Nectar comes from the Agave succulent plant and is sweeter than sugar, yet has a lower glycemic index (does not quickly raise blood sugar levels).
Our Flavored Agave Nectar is blended with only all-natural flavors (with no additives or fillers).
Our premium Agave Nectar is a satisfying and pleasant sweetness that compliments your beverage or food choice.
Artisan Gourmet Flavored Agave Nectar
Bulk Request
Food bulk processing and industrial offering available in drums, totes, partial pallets, full pallets.